Conducting the Scottish Pops Orchestra, starring Christina Bianco (The Ellen DeGeneres Show/YouTube sensation, vocal impersonations), in the Glamis Prom, Glamis Castle, Scotland 2017.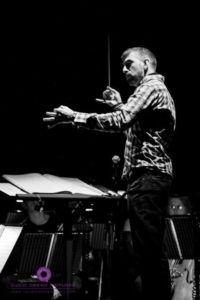 Photo credit – www.luciddreampictures.com
"Simon is great to work with; not only a fine musician and conductor but also someone who deals with problems quickly and easily. His enthusiasm in his work makes sure that everyone involved can work to their very best." – Robert Jolley, producer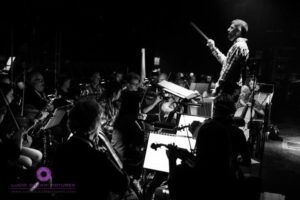 Photo credit – www.luciddreampictures.com
Simon studied conducting (with Francis Shaw), piano, and French horn at the Guildhall School of Music and Drama, London, and singing, privately, with Maureen Scott in London.
His début, as the youngest assistant conductor in musical theatre at the time, was at the age of 20 when he conducted the German premier production of Andrew Lloyd Webber's mega musical, Sunset Blvd. (See the other drop down menus under CONDUCTOR for full biography/review details).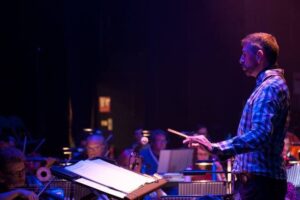 Photo credit – www.luciddreampictures.com
If you'd like to book a conducting masterclass with Simon, please use the contact form (contact)
Simon currently gives conducting classes to the MA Musical Director students at Mountview Academy of Theatre Arts, London, as well as his private students.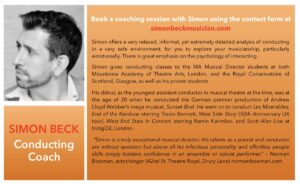 "I approach each session from the perspective of developing YOU as a conductor, rather than to impose my gestures and interpretations.
There is great emphasis on the psychology of interacting with your ensemble/orchestra. How are you coming across to your musicians? Your physicality? Are you bringing out the best in their playing? Is your demeanor encouraging them to enthuse, as you do, about the shared music? Have you made an emotional connection to your music and musicians? Do you have a working knowledge of every part of the score, in every moment?
I offer a very relaxed, informal, yet extremely detailed analysis of conducting in a very safe environment, for you to explore your musicianship, particularly emotionally.
Baton techniques can be explored, there IS some accepted common ground regarding gestures, but I work from the point of view that we each find our own preferences in our own time. We are ultimately developing YOUR communication skills.
My fees are outlined below:-
£70.00 per hour (from 01/01/2018)
Sessions take place in central London, or, in certain cases, I am prepared to travel to your location.
It is up to you if you would like a pianist present for you to conduct. I can arrange this for the standard Musicians Union accompanist rate. Otherwise, I will play as we analyse. You are completely at liberty (and welcomed) to provide your own pianist. You may even choose to share the time and cost of a session with a fellow conductor and play for each other.
I very much look forward to working together!"