Simon studied piano (with Penny Stirling & John York) at the Guildhall School of Music and Drama, London.
---
Most recently, Simon reunited with Hal Cazalet to perform Play On Words at The Tithe Barn, Hinton St Mary, Dorset. Celebrating the lyrics of Hal's step-great-grandfather PG Wodehouse. Directed by Hugh Wooldridge. Guest starring Janie Dee & John Rose.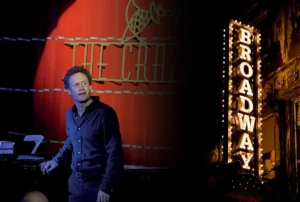 ---
Since 2017, as a pianist/music director, Simon has had the great honour of collaborating with UK & US stars on a series of legacy concerts. Lorna Luft celebrating her mother, Judy Garland; Hal Cazalet celebrating his step-great grandfather, PG Wodehouse; and Liz Robertson celebrating her late husband, Alan J Lerner.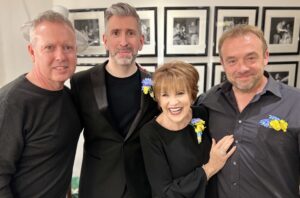 ---
During 'lockdown' in 2020, Simon gave an online recital in aid of DementiaUK, produced and hosted by Harriet Flather. He also performed With One Look and Won't You Charleston With Me, from Andrew Lloyd Webber's Sunset Blvd and Sandy Wilson's The Boyfriend, for Musical Marathon, an online event exclusively featuring music directors, produced and hosted by Sam Young.
---
In October 2015 Simon was featured pianist in the orchestra in a gala celebrating the 85th birthday of Stephen Sondheim, at the Theatre Royal, Drury Lane, London. He also accompanied (solo piano) Millicent Martin in a featured number.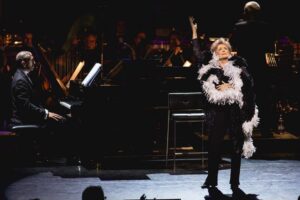 ---
In April 2015 Simon performed in the Music Room, Aberdeen, Caird Hall, Dundee and Usher Hall, Edinburgh with Tonight from the West End. As featured pianist, alongside the British Sinfonietta, he accompanied Kerry Ellis and Adam Garcia. As solo pianist he performed with Christina Bianco.
---
In December 2008 Simon played piano, accordion, recorder and provided backing vocals for Maria Friedman in her one-woman act Re-arranged at Trafalgar Studios.
---
On World AIDS Day 2007, he performed with the legendary Barbara Cook at the London Colliseum, also playing solo piano accompanying Sian Phillips and featured piano with the orchestra for Elaine Paige, having arranged and directed the 50 voice choir from Arts-Ed and the West End for the evening.
---
He has also played piano/keyboards in:-
The Woman In White (Palace, London)
A Chorus Line (Crucible, Sheffield)
Chicago (Adelphi, London and UK Tour)
Miss Saigon (UK Tour)
Les Miserables (Palace, London)
Lautrec (Shaftesbury, London)
Beauty And The Beast (Dominion, London)
Sunday In The Park With George (Haymarket, Leicester)
The Phantom Of The Opera (UK Tour)
Showboat (Prince Edward, London)
Martin Guerre (Prince Edward, London)
Sunset Boulevard (Adelphi, London)
As well as concerts with the BBC Concert Orchestra at Hampton Court Palace and Royal Festival Hall, London.
---
Recordings include:-
Lerner Without Loewe, Liz Robertson (Music Director/pianist)
The Courage of a Dreamer (debut solo album)
Monty Python Live (Almost) (DVD – solo/featured piano)
Simple Thing, Justine Balmer's debut album (solo/featured piano)
The UK tour 'live' cast album of Spamalot (Music Supervisor/Conductor/keyboards)
The Spark Of Creation, Marjory Watson's debut album (Music Director/arranger/pianist/solo and backing vocalist)
Acorn Antiques-The Musical (DVD – Assistant Music Director/keyboards)
Sunset Blvd (original German cast – Assistant Music Director/keyboards)
And the demo recordings of Blast! (pianist/backing vocals), and It! (Music Director/pianist).
---
In October 2010 he appeared onstage (solo piano/backing vocals) with Annalene Beechey, performing a tribute to Joni Mitchell as part of the Apollo Victoria Theatre's 80th Birthday Celebration Gala Concert.
---
In 2003 he was invited to perform with the American touring company The Best Of Broadway in a series of concerts in Cincinnati, Ohio, USA. He played featured solo piano with the orchestra and also performed Sara Lee with a chorus of showgirls!
---
He has also appeared in:-
The Maestro & The Diva… Just Who DO We Think We Are? (Edinburgh)
The Party Of Life (Jermyn Street Theatre, London)
LBT To Broadway (Lawrence Batley Theatre, Huddersfield)
Jermyn Street Jewels (Jermyn Street Theatre, London)
West End Show-stoppers (Natural History Museum, London)
Simply Sondheim (The Talk Of London)
As well as cabarets at:-
Skibo Castle (Scotland)
Pizza On The Park
The Cafe Royale
Lauderdale House
The Ad Lib Room, Mountbatten Hotel (all London)
and the cabaret room at the Hazlitt Theatre, Maidstone
The Riverside Barn, Surrey
And appearances in Germany, Sweden and Denmark.