£10.00
The Courage of a Dreamer – a celebration of my favourite Broadway writers. Intended to be played from start to finish, it's the story of a life. Perhaps mine. Perhaps yours. I'm so excited to share this beautiful collection of songs with you!
Simon Beck's debut album, "a spiritual re-imagining of some of musical theatre's best loved songs". Including the Oscar-winning song, Beauty And The Beast, and Dancing Through Life, from the hit Broadway and West End musical, Wicked. Available on CD, priced £10.00
Digital version available here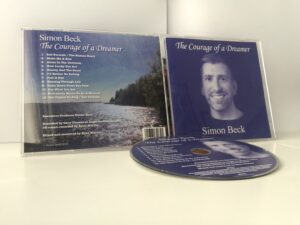 *** Featured play on Sunday Showtunes,
played as Crush of the Week on Mark Petty's Midday Mixtape (theradiocollective.com),
and interviewed/played on The Curtain Up Show, presented by Tim McArthur ***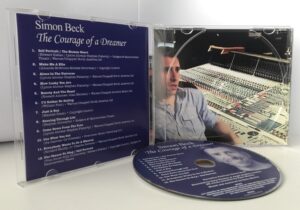 ALL RIGHTS OF THE PRODUCER AND OF THE OWNDER OF THE WORKS REPRODUCED RESERVED. UNAUTHORISED COPYING, HIRING, LENDING, PUBLIC PERFORMANCE AND BROADCASTING OF THIS RECORDING PROHIBITED.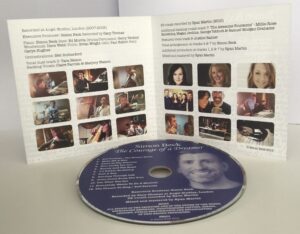 "Simon Beck is a legend" – Mark Shenton, Theatre Critic
Description
Simon Beck's debut album 'The Courage of a Dreamer'
"I'd encourage anyone with an interest in musical theatre to buy this album. Simon is a wonderful musician. I loved his vocal and instrumental arrangements as well as the thoughtful and insightful interpretation of a terrific songlist." – Ken Alexander, Theatre Director
"Simon Beck is a legend" – Mark Shenton, Theatre Critic
Released in October 2015
Recorded between October 2007 and July 2015 at London's famous Angel Studios
Tracks
Self Portrait / The Human Heart
Make Me A Kite
Alone In The Universe
How Lucky You Are
Beauty And The Beast
I'd Rather Be Sailing
Just A Boy
Dancing Through Life
Come Down From The Tree
Use What You Got
Everybody Wants To Do A Musical
The Chance To Sing / Self Portrait
Featuring a 7 piece band, 6 backing singers, and two guest vocalists
Orchestrations by Neil Rutherford
Vocal arrangements by Simon Beck